Featured Item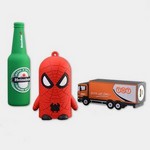 Custom PVC Power Bank - 2200 mAh
Go above and beyond a printed logo and leave a lasting impression with your own customized PVC power bank! Custom designs available in 2D and 3D shapes, from tubular shapes to mini figurines. Simply p...
$19.00 - $25.00
Welcome!
Welcome to TransWorld Services' Online Product Search!
When you look good, we look good!
Let TransWorld Services design an product program that will let your customers and employees know you mean business. Please feel free to shop around and don't forget to call us when your done so we can get your program started.
Signature Showrooms